Only real with best before date 23.0122
In cooperation with IMTON GmbH (Ralf Rößner) we offer you a very good, hand milled Light Root Powder.
DE-ÖKO-006 German agriculture
The finely ground Light Root Powder is ideal for food supplements in soups, mueslis, salads, sprinkled over the food, mixed in a smoothie or added to the quark dish. The imagination knows no limits.
In addition to the internal application, it can also be used in your own creams and base rubs:
A small spoonful of powder stirred in brings invigorating freshness!
(Please really take a small spoon, Light Root Powder has a very intensive effect on the skin.)
Why does light root powder make sense?
Easy processing
is absolutely obvious from your (consumer) perspective.
The very good shelf life
of Light Root Powder becomes apparent when you first look at the best before date (best before date). A year in dry and cool storage in Miron glasses is no problem at all.
Mucus-free
- the abundant mucus content in fresh roots is irrelevant without this being devalued by drying and grinding. Compared to raw roots - which I would of course recommend from time to time - the range of
possible uses is almost unlimited
.
Imagine a stew with roots of light - very tasty - but it's a shame if it was cooked on an electric stove or mashed with an electric beater. You no longer have to expect light ether qualities after such a treatment.
If, like many people nowadays, you only have an electric stove, you can first cook the delicious stew and stir in the Light Root Powder before serving. The same goes for smoothies - mix first, then stir in the powder.
It becomes a little bit more difficult when baking in the electric stove; Subsequent stirring is not possible. But what is possible: stirring into the glaze - e.g. Icing with Light Root Powder.
Important:
No application in connection with
AC power
(stove, mixer, Oven ...), otherwise there is a risk of devaluation of the light ether quality.
---
How is made powder from Light Roots?
raspsing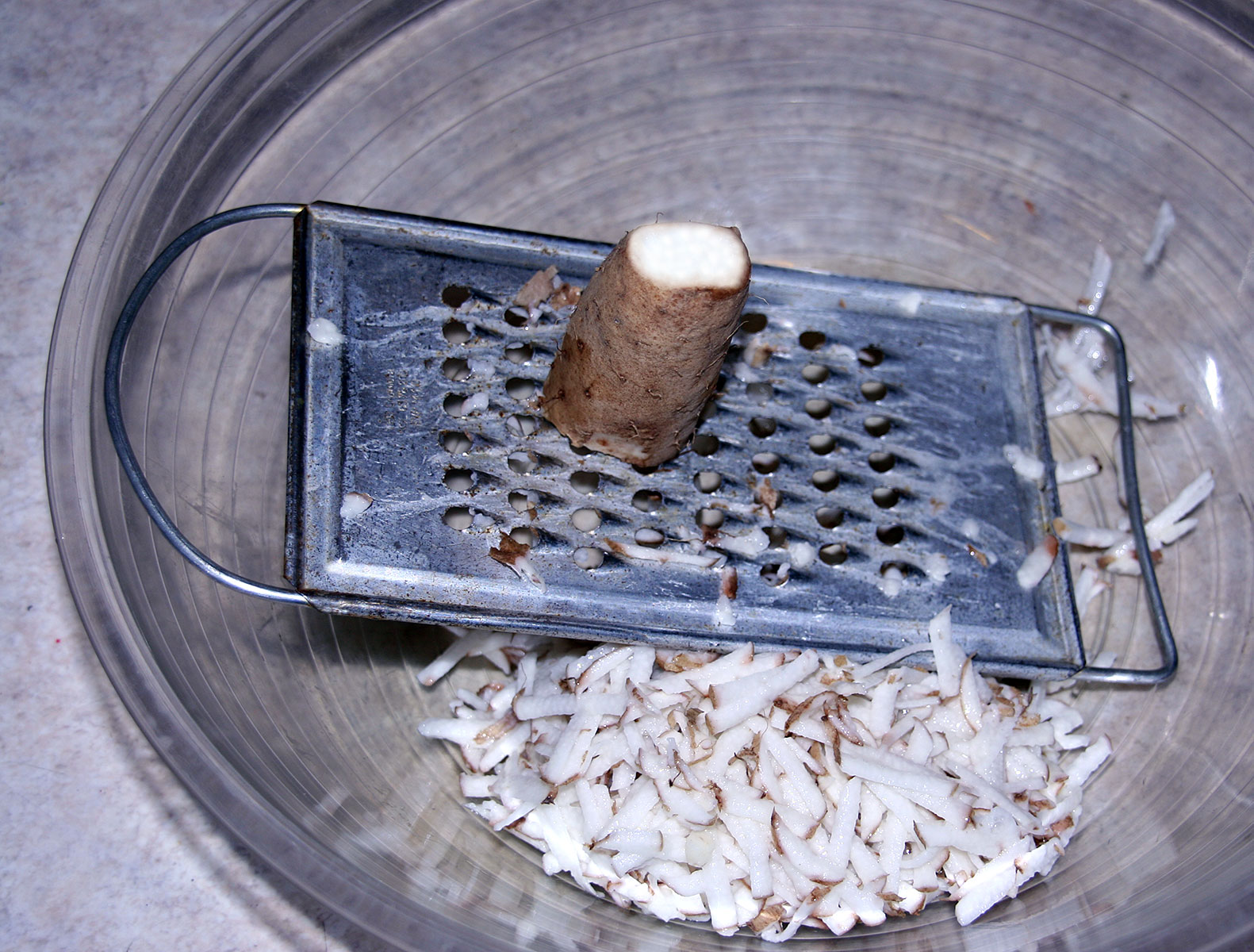 For quick drying in a light-sealed drying kiln, the light roots are grated into thin strips beforehand. Snacking is allowed 😉
After the roots have been thoroughly cleaned, the first thing to do is to chop them up with a rasp.
This process is extremely important for a quick drying process, as it creates a large surface area and enables the abundant moisture to dry off quickly.
Our graters are made of hygienically perfect stainless steel.
drying
The rubbed light roots are then applied as a thin layer to the drying trays.
Up to 30 drying trays fit in the convection drying kiln.
The air flows around the individual layers from top to bottom, absorbs the moisture and releases it into a 6m high convection tower.
The root rasps stay in the kiln for a good 48 hours under exclusion of light and develop into "crunchy" sticks - still completely white
The grated light roots are immediately pushed into the dark drying kiln and dried quickly.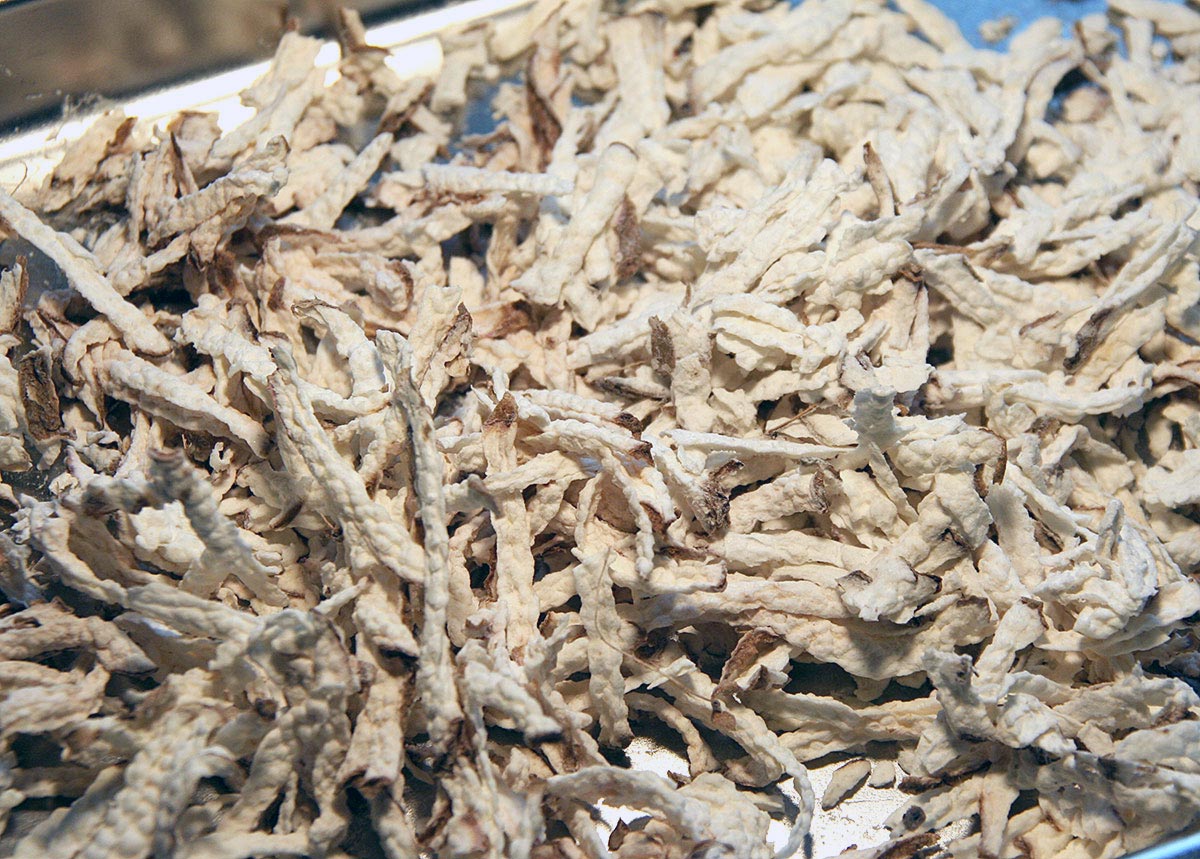 Light root rasps dried within approx. 48 hours. In the drying kiln it was absolutely dark and never above 30°C.
grinding
Hand mill with light root rasps and whisk for plugging
Light root powder ground with a hand mill
In the third part of powder production it becomes tedious, even meditative.

The well-dried rasps are first coarsely ground in small "loads", then finely and finally dusty.

This is not an easy job, because you need strength at the beginning and endurance later.

In this way, not only is an effective light root powder created for you, but also an exercise in forming a will for the producer.
---
Why Miron glass as packaging?
The special thing about violet glass (Miron glass / black glass): *
Violet glass offers absolute light protection in the visible range.
In the violet and ultraviolet range, on the other hand, it is permeable and thus creates a unique, highly energetic environment inside. The molecular structure of substances filled in it is constantly activated. Degradation processes are delayed. Subtle energies remain at the original level for a long time.
The quality of the funds stored is optimally preserved. The contents have a longer shelf life and preservatives can be reduced.
References & quotes about violet glass:
The Swiss biologist Dr. Hugo Josef Niggli: The samples in violet glass have a significantly better storage quality, show a significantly quieter oscillation and show the lowest energy loss.
The Fraunhofer Institute in Munich: In comparative tests it was found that radiation in the photosensitive, visible range (approx. 450 nm to 720 nm) does not penetrate through the violet glass.
Dr. Dieter Knapp in Mittenwald: A series of tests carried out at the institute in October 1997 impressively confirmed the effectiveness of the dark purple glass for preservation purposes. Everything in nature radiates energy: The energy radiation of a living being or a substance shows the amount of energy available. The human eye cannot perceive these energy fields. The German researcher Dr. D. Knapp has developed a special electrographic process in his institute, with which energy fields can be made visible in photographs. In Dr. Spirulina algae from the same production batch were filled into different packaging and measured after four weeks: The sample in the violet glass shows a strong and dynamic energy field, while the samples in the brown glass and plastic show a clear decrease in the energy field.
* With kind permission quoted from product information of the Paracelsus-Versand.de - catalog 2014
Galileo video about violet glass.